(Updated: 10 July 2022)
Overview
This page contains information and images relating to the railway history of Horspath.
The Horspath railway line opened on 24th October 1864 on Brunel's broad gauge track of 7ft.
The entire track was relaid to the Great Western Railway standard gauge of 4ft 8'5 inches in 1870.
Horspath Halt opened on 1st February 1908.
Last passenger train ran on 6th January 1963. The line remained open for occasional parcels traffic.
In 1969 the track was lifted except for the final stretch beside Unipart.
A more comprehensive history of the railway will be found on the Horspath Archaeological and History website: Horspath Railway Timeline
Images
The following images were supplied by Keith Brooks who discovered them when doing a clear-up. The photographs were taken by Roy Cripps in the late 1940s or early 1950s. He passed the images on to Keith.
A British Rail County Class engine approaching the bridge. The train would have been diverted from the Reading main line for some reason. Possibly the only County Class to have travelled over this line.
A Hall Class engine hauling a train just before Butt's bridge. Judging by the number of carriages this was probably a local train, in which case it would be an unusual working for a Hall Class.
The hut was used to store line side equipment including detonators which were occasionally put on the line by local lads, having broken into the hut.
A lone engine approaching the tunnel.
A "6100" Class engine hauling a local train between the bridge and the tunnel. This Class was the usual for local trains on this line.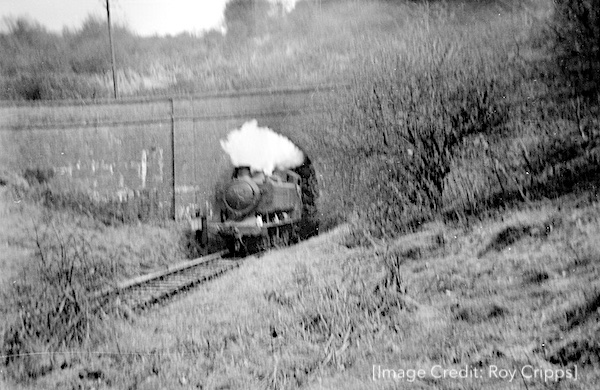 A Panier Tank engine emerging from the tunnel.
"6100" Class engine hauling a local train towards Wheatley. Photo taken from No. 19 Gidley Way.